Viewing Your Capping Photos Online
University of Otago or Otago Polytechnic capping ceremonies
Arrangements have been made with the University for an individual photograph to be taken of those who cross the stage at the Graduation Ceremony.
These Photographs and Diploma Frames will be available for purchase in the annex to the right of the Glenroy Auditorium immediately after the Graduation Ceremony.
A full price list for extra photos, enlargements and frames will be supplied with the original photo.
Photographs are now available to view and order online within 24 hours of the Graduation Ceremony
www.mcrobie.co.nz
Alternatively…
You may write or email to McRobie Studios, quoting the date of the ceremony, the Graduates name and the page number the Graduate is listed on in the Graduation booklet.
To assist identification please add some extra, helpful details, such as: gender, hair colour, jewellery and describe what the graduate was wearing on their top half.
If you would like us to send the framed photo, the
following packaging & courier fee applies per order: South Island $18 North Island $28
Extra copies are always available from
photographs taken by McRobie Studios with our graduation files dating back to 1998.
Photo, frame & Matte with
University of Otago Crest $70.00.
Photo only $17.00*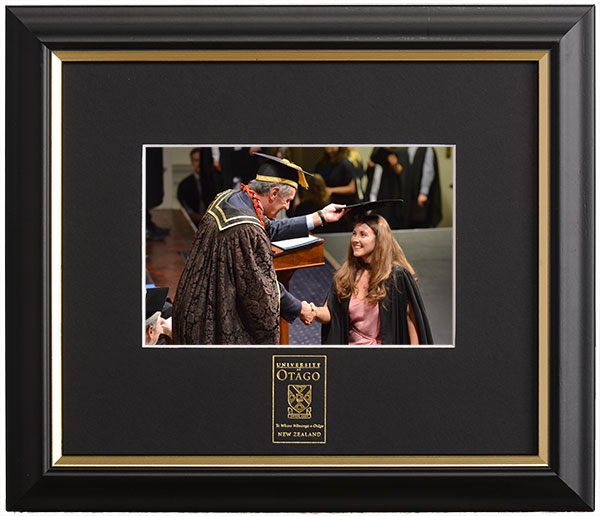 To assist us on the day in finding the graduate please have the page number ready in the graduation booklet.
EFTPOS & Visa & Master Card facilities are available
on the day.
Prices are subject to change. Price includes GST
PLEASE DOUBLE CHECK YOUR ORDER BEFORE PROCESSING!
WE WILL NOT TAKE ANY RESPONSIBILITY FOR INCORRECT ORDERS AND NO REFUNDS WILL BE GIVEN!
All orders will be process within 10 working days of making your payment. (Photo Only orders already include post)
We are not sending framed photos overseas at this time only loose photos only. Please contact the studio separately if you wish to get a custom quote on overseas freight.
We do not offer a pickup option.
ALL FRAMES MUST HAVE COURIER FEE ADDED, ONE OFF FEE REGARDLESS OF THE AMOUNT OF ITEMS IN YOUR CART ($15 SOUTH ISLAND OR $25 NORTH ISLAND).
Graduates 'Crossing the Stage' Re-Order Prices
Photo Only
Photo, Matte & Frame see below
15x10cm
6"x4"
$17.00
$70.00
13x18cm
5"x7"
$28.00
$98.00
20x30cm
8"x12"
$48.00
$165.00
25x38cm
10"x15"
$90.00
$198.00

Digital files are available for purchase
Low Res $30.00 (640px – Not suitable for printing) High Res $95.00 (3600px – Print up to 30x20cm/12×8″inch)
All digital files have our logo in the bottom right corner.

All work is performed subject to AIPA/NZIPP Standard Terms and Conditions. Copyright remains the property of McRobie Photographics Ltd. Where digital files are purchased a licence will be granted for personal use only. Changing or alterations to our work without written permission is in breach of the license granted. Reproduction without express written permission is prohibited.